Statement:


In a theatre, at the start of the show and lasting a time which will remain flexible, interpreters (actors or dancers) run nonstop on a random course which brings them outside the theatre into the neighborhood so that they may provide an onstage account, individually and verbally, of events and situations noticed beyond the field of vision of the spectator.
They leave one at a time exiting through the audience and re-enter coming from backstage. They only stop running when they speak onstage. How many times they perform their journey and the distances covered outside the theatre depend on the number of interpreters and the time allowed.
The haphazard nature of interpreters' paths means that several of them may end up onstage at the same time.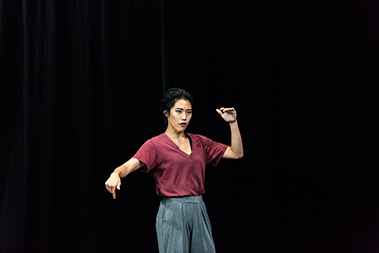 Activation:


April 6th and 7th 2018
Singapore Airlines Theatre / in collaboration with the Lasalle College of the Arts
In the frame of festival

Voilah ! 2018

, Singapour
Curator : Melissa Quek

With: Chai Ching Nicole, Chua Pei Yun, Dave Lavanya Nitin, Kimberly Long Li Qin, Lee Wee Siong, Leong Stacie, Muhammad Sharul Bin Mohammed, Nur Afiqah Binte Rapee, Shi Yun Cassie, Tan Lixin
Vanessa, Tan Zi Wen Vasantha, Chin Qihui Cheryl, Isabel Phua Jie Xin, Lim Wei Li Valerie, Shaun Lim Zheng Hao, Tan Wei Ning Delia


Photo : Kuang JingKai

Conception : Annie Vigier et Franck Apertet