Statement:

Parterre interferes freely in a pre-established event without notifying the place in which it occurs.
The strategy unfolds amidst the audience of a theater, a performance venue, a conference room, when the audience takes their seats in the bleachers.
After announcing the title, the name of the choreographers and the identity of one of the sponsors of the strategy, a group of dancers takes to the top of the bleachers to slide down on the backs of the seats and the bodies of the spectators, in the direction of the front of the stage. The dancers do this action twice; the first time they are dressed, the second they are naked.
The contractual conditions of the strategy allow Parterre to escape the control of its host and sponsor. The day and place of its occurrence remains entirely confidential. The sponsor potentially attaches his name to all coming activities.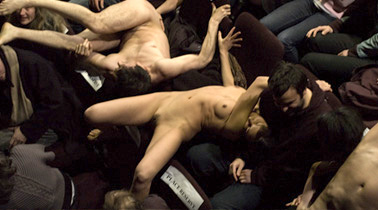 March 31st 2009, Maison des Métallos, Paris, France

.


Photos:

Steeve Beckouet


Courtesy: les gens d'Uterpan


Activations:

24/11/2017 KVS, Brussels, Belgium, 7:55 pm
29/05/2015 Gamlekinoen, Voss, Norway, 10 am


26/04/2012

Zagrebačko Kazalište Mladih, Zagreb, Croatia, 7.58 pm


16/10/2010 Théâtre National de Chaillot, Paris, France, 8:25 pm
19/06/2010 Deutsche Oper Berlin, Germany, 7:15 pm
18/06/2010 Deutsches Theater, Berlin, Germany, 7:55 pm
17/06/2010 Schaubühne, Berlin, Germany, 7:55 pm
14/06/2010 Théâtre de la Ville, Paris, France, 8:25 pm
08/04/2010 Théâtre de la Cité Internationale, Paris, France, 7:55 pm
27/03/2010 Théâtre National de la Colline, Paris, France, 8:25 pm
12/02/2010 Théâtre de Vanves, Paris, France, 9:10 pm
05/02/2010 Grand Palais, Monumenta, Paris, France, 6:55 pm
29/01/2010 Centre Pompidou (grande salle), Paris, France, 8:25 pm
31/03/2009 Maison des Metallos, Paris, France, 8:28 pm


30/01/2009 Theatre de Vanves, Paris, France, 8:25 pm



Showing of the video of

Parterre

:

November 25th-29th 2011,

4th International Video Art of Camagüey 2011

, Cuba
May 20th-22th 2011,

Athens Video Art Festival 2011

, Greece
March 4th-6th 2011,

Danubevideoartfestival 2011,

Grein,

Austria

Performers: Franck Apertet, Benjamin Body, Luis Corvalàn Correa, Isabelle David, Camille Dejean, Sophie Demeyer, Evelyne De Weerdt, Matevz Dobaj, Damien Dreux, Cécile Laloy, Deborah Lary, Clémentine Maubon, Olga Osorio, Jérémy Paon, Stève Paulet, Denis Robert, Erika Schipa, David Zagari, Francesca Ziviani

Commissioned by: Théâtre de Vanves/ Revue Mouvement -

Festival Clandestin

/ CAC Brétigny/

6th Biennial of contemporary art in Berlin

/

Festival Queer Zagreb 2012/

Agalaus-Nasjonal kunstfestival 2015/ Documenta 14 and Cc Strombeek




Conception : Annie Vigier et Franck Apertet